Review: Fitbit Charge 4
Fitbit's new Charge 4 is one of the best trackers available that comes with onboard GPS and better activity tracking
The Fitbit Charge 4 is a lightweight fitness tracker that comes with built-in GPS, Spotify support, Fitbit Pay and other advanced health features. This GPS enabled fitness tracker steps up its fitness game with features like enhanced sleep tracking and a heart rate monitor.
The Charge 4 is slim and light with a rectangular face, meant to be worn round the clock. It comes in two versions – standard and special. Ours was the standard edition in rosewood colour. The straps of the watch are available in two lengths to suit different wrist sizes.
You can wear the watch while swimming and showering as the Charge 4 is water-resistant to a depth of 50 meters. It is, however, advised that you dry the watch afterwards (just in case).
The accompanying charging clip connects to the watch easily and charges the watch within an hour via a USB cable. A full charge will easily last you a week, although this period will reduce depending on your usage of the in-built GPS.
The tracker's built-in GPS tracks your running, cycling and swimming activities while saving weekly activity data and a monthly record of steps, distance, floors and calories burned. You can also access the Fitbit app for older figures.
The watch screen is very responsive and has a backlit OLED display which is bright and clear, even in direct sunlight. The touchscreen and an invisible side button act as the controls. A swipe to the right will give you access to the menu and settings options. Swiping up will show you the daily stats, and a swipe down reveals your latest text and call notifications. If you do not want to receive these notifications, that can be easily accomplished by simply pressing and holding the touchscreen.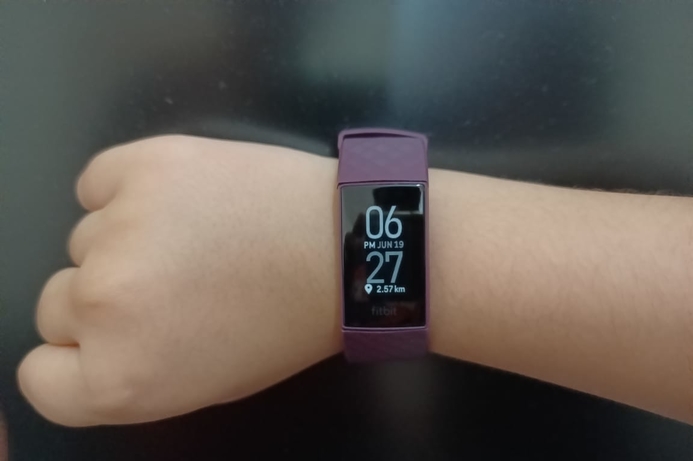 The Charge 4 sends you timely reminders to get up and stretch your legs; its frequency can be modified to your liking through the Fitbit app. The app is easy to set up and connects your Charge 4 to your phone via Bluetooth. Just select Charge 4 after downloading the app, enter the four-digit pin displayed on your watch screen and update device firmware. This process takes a few minutes, and you should not face any issues there. Just enter your stats and goals, and you are set to go!
While this tracker can keep score of six activities, it only allows for shortcuts to four. This means you will have to pick and choose the ones you use more frequently. If you would like to see a GPS map of your workout, we suggest you select the activity type before starting.
The Fitbit Charge 4 offers everything that you want in a fitness tracker without being over-crowded with unnecessary information. It is lightweight and easy to use, paired with an easy-to-use app with week-long battery life. GPS is an excellent addition to the watch and makes it worth its price. If you are looking for reliable fitness tracking for your outdoor and indoor training activities, this is one of the top to consider.
Price: AED 699
Rating 4/5