Review: Acer Swift 5
Acer Swift 5 is a super lightweight, 14-inch laptop that is equipped with a new processor and a stronger graphics unit with Thunderbolt 3 support
The first thing that will strike you about the Swift 5 is its lightweight. The latest iteration of the Acer Swift 5 is a 14-inch sleek Ultrabook that weighs under a kilogram and has a slim and light chassis. It works best for those on the go, that need something light and portable to help increase workflow and productivity.
Being lightweight is nothing new for the Swift 5. Its latest version comes with 10th generation Intel processors with enhanced specs that include Wi-Fi 6 support and options for Nvidia's GeForce MX350 graphics chip. Clearly, while it is still incredibly light, it is simultaneously a lot more powerful.
The Swift 5 is available in two models. Our review unit was a quad-core Intel Core i5 CPU with a full HD (1,920-by-1,080-pixel) touchscreen, backed by 8 GB of RAM and 512 GB SSD. It is priced at AED 4,299 and comes with Windows 10 pre-installed. The higher-spec version, priced at AED 4,999, was launched recently with Intel Core i7 and 16 GB of RAM.
In terms of the overall design, build and finish, the Swift 5 is incredibly good. It is slim at 14.95mm and sports ultra-thin bezels cast in a metal chassis (a magnesium-lithium alloy). Acer Swift 5 is a portable laptop constructed from super-light metal alloy and weighs 990 grams.
The new Swift is respectably tough for an on-the-go portable laptop, and performs daily work tasks efficiently, without any noticeable heating. Despite its lightweight and aluminium alloy finish, this device is sturdy and weighs less than some tablet hybrids.
With a 300-nit 1920x1080 IPS display, the laptop offers acceptable levels of colours, contrast and sharpness. The full HD resolution keeps all your photos and videos looking nice and crisp. While the viewing angles are good and the colours are quite vivid, it is not the most colour accurate screen.

Acer has packed this all-around ultra-portable device with dependable performance, solid battery life and strong connectivity.
The IPS display has a matte finish that helps prevent fingerprints from touchscreen usage and keeps reflections at a minimum. Its touchscreen is responsive and works well when you want to pinch or zoom.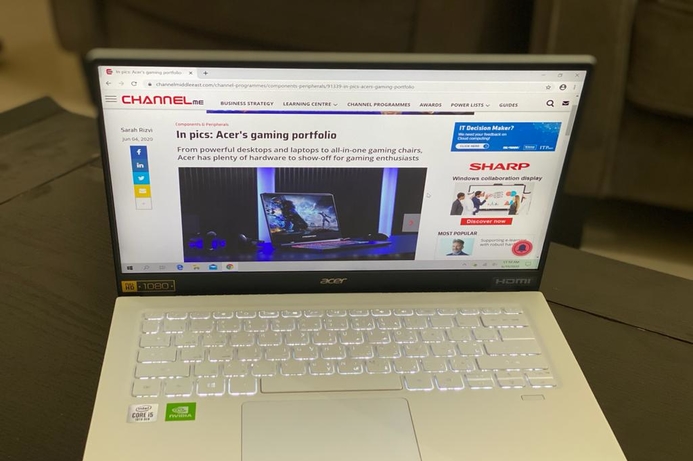 Just like the rest of the hardware design, the keyboard lettering in gold gives the laptop a stunning appearance. Connectivity is seamless with excellent range, and the keyboard is one of the best on a Windows machine. Backlighting is back in action. You can toggle between low and high intensities or just completely switch it off using the F8 key.
Since it is using Intel 10th Gen this laptop also gets Wi-Fi 6, Bluetooth 5 and USB 3 port with Thunderbolt 3. The laptop also comes with a full-size HDMI to plug in a monitor or TV. It does get 8 GB of RAM and 512 GB of storage, which is perfect for most everyday tasks.
The power button is oddly placed at the top right, where you usually find the delete button. It will take some time to get used to but is no deal-breaker. The trackpad has integrated mouse buttons and is of reasonable size and quality. The fingerprint sensor is very responsive and works perfectly.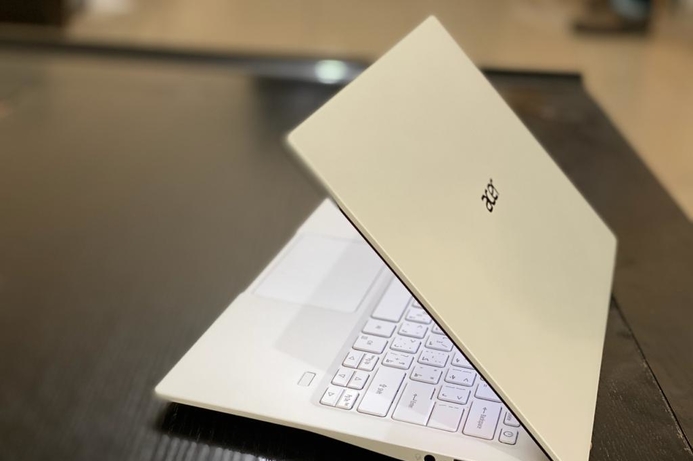 Battery life is good enough to get you through the day easily. The Swift 5 supports fast charging, so you are covered even if the battery runs low. This laptop can also be charged using the USB type C port which is convenient if you do not have a charger handy. The sound quality is nothing to brag about, but it is enough for a daily dose of Netflix or YouTube.
The Swift 5 is a portable powerhouse, packed with features that are well-worth its price. It is a mid-range laptop that is meant for everyday use. Acer has packed this all-around ultra-portable device with dependable performance, solid battery life and strong connectivity. While it is not the most powerful machine you can buy, it works perfectly for daily productivity and is an excellent alternative to bulkier business laptops.
Price: AED 4,299
Rating: 4/5