Apple will unveil the upcoming iPhone on September 10
Tim Cook and company have a lot to prove at Apple Park as invites get sent out "By Innovation Only"
September 01, 2019, 09:15 AM
Apple has sent out media invites for its annual iPhone-centric event last week that will be held on Tuesday, September 10 at 10:00 a.m. at the Steve Jobs Theater at the Apple Park campus in Cupertino, California.
The media invites offer up a first look at the theme of the event and feature the tagline "By innovation only." If Apple's last event was anything to go by, Tim Cook will have to offer something a bit more lest they get audible gasps and laughs from the audience on pricing details of their products. 
What can we expect ? We do know that details of the iPhone 11, at least the way it looks, has been revealed. The company will bring three variants of the iPhone 11. The iPhone 11, 11 Pro and 11 Pro Max. The most notable change is that we'll see the iPhone getting three cameras in a square bump arrangement which will have a telephoto lens, a wide angle and a super wide angle. The iPhone 11 will also have a better night mode as these leaked specs indicate.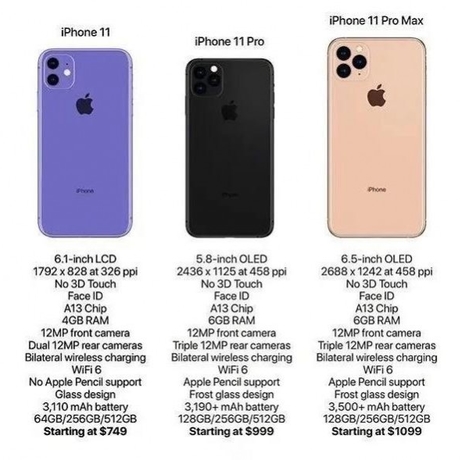 3D touch is out in favor of haptic feedback which we saw in the iPhone XR and the 6.1inch iPhone gets a dual camera setup. Bigger and better batteries coupled with Apple's new A13 chip and iOS 13 will be some of the things we can expect to see next week. What abotu 5G ? Well if the rumor mill is to be believed, we'll see that only coming to the iPhone next year. 
In addition, there'll be updates, while not major,  still significant enough to be mentioned. Apple Watch users can expect to see new models come out. You can catch the keynote live on its website.
September 01, 2019, 09:15 AM