Smart Dubai Launches 27 New Services to the DubaiNow Platform to Streamline Government Transactions for Users
The new additions include services from various city sectors such as charity donations, residency, education, housing, and mobility, and cater to all members of the community.
Smart Dubai has launched 27 new services across several important sectors via its flagship DubaiNow application – a one-stop shop for all smart services in the emirate – to further ease access to these services and expand their scope. The launch took place as Smart Dubai takes part in the 39th annual GITEX Technology Week, taking place in the Dubai World Trade Centre on October 6-10, 2019.
The new services facilitate charity donations, residency procedures, education, housing, and mobility, in collaboration with Dubai's Awqaf and Minors Affairs Foundation, General Directorate of Residency and Foreign Affairs - Dubai, Knowledge and Human Development Authority, the Dubai Land Department, and the Roads and Transport Authority (RTA). Part of an integrated plan to drive Dubai's digital transformation, these services aim to facilitate daily transactions for members of the community in the emirate by bringing them all onto one smart platform.
The new services have been built with a core focus to serve the end user – the residents and visitors of Dubai. Some of the services that are now available on the app include renewing and cancelling residency of family members, signing a home rental contract to rent a house in Dubai, and signing a parent-school contract during the beginning of the new school year.
These services – now available digitally for every individual in Dubai – allow users to save 28 hours per year, in addition to also saving 14 visits to government services centres.
Her Excellency Dr Aisha Bint Butti Bin Bishr, Director General of Smart Dubai, asserted that the new services offered are a significant addition to the DubaiNow portfolio, touching on several key sectors in the community.
"They form part of Smart Dubai's efforts to enhance government services and support the transition towards smart systems," H.E. added. "This, in turn, aligns with the Dubai Paperless Strategy, which seeks to render all government transactions digital by 2021, and helps achieve our ultimate goal at Smart Dubai, which is to transform the emirate into the happiest and smartest city in the world.""The new services are the result of collaboration with various government entities in Dubai," H.E. Dr Aisha continued. "Our network of strategic partners work together to improve government services delivered to the public in Dubai via state-of-the-art smart platforms, and we look forward to expanding this network as we strive to achieve the best results, ensure customer satisfaction, and establish Dubai as a leading global model for government services, all while contributing to the comprehensive nation-wide development process spearheaded by His Highness Sheikh Mohammed bin Rashid Al Maktoum, Vice President and Prime Minister of the UAE, Ruler of Dubai."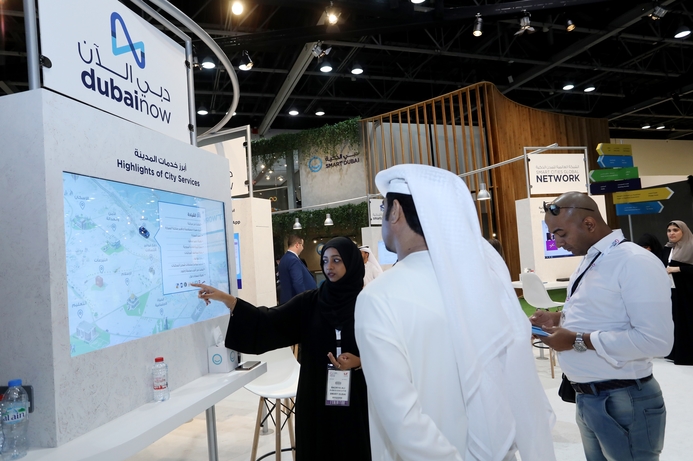 H.E. Dr Aisha went on to reveal that additional services are in the pipeline for the DubaiNow platform, covering more important sectors, namely, the police, health, and justice sectors.
Among the new services is a feature that allows users to donate to charity. A list of all the programmes and initiatives launched by the Awqaf and Minors Affairs Foundation can be accessed through the app, allowing users to select the one they would like to support and donate directly through the application using e-payments or Apple Pay. The objective from the feature is to facilitate charity work for the community and promote social responsibility.
"Smart digital transformation enhances the services we offer the community and improves quality of life in Dubai," said H.E. Ali Al Mutawa, Secretary General of the Awqaf and Minors Affairs Foundation. "By joining Smart Dubai's DubaiNow app, we are allowing more individuals to contribute to our social programmes. This partnership also provides additional support for our projects, and makes it easier for the wider public to support them and play their part in benefitting the wider community."
DubaiNow has come to host 10 smart services that seek to facilitate charitable donations. In June of 2019, and in parallel with the 'Year of Tolerance', Smart Dubai introduced a new upgrade to the application allowing users to make donations to four segments of beneficiaries: People of Determination, cancer patients, the elderly, and families needing financial aid. The upgrade was the result of collaboration with the Dubai Department of Finance (DoF), the Community Development Authority (CDA), the Friends of Cancer Patients Organisation, and the Tarahum Charity Foundation.
Meanwhile, the 'Residency' service gives members of the community greater flexibility in applying for, renewing, and cancelling residency visas for parents, spouses, children and other relatives through the app. Applicants must be over 18 years of age, holding a valid Dubai residency and working in the emirate, and have families that live with them in the UAE.
Major General Mohammed Ahmed Al Marri, Director General of the General Directorate of Residency and Foreigners Affairs in Dubai, said: "The 'Residency' service helps streamline procedures for issuing, renewing, or cancelling residency permits for all family members, saving our customers and employees time and effort, improving our services overall, and promoting happiness and positivity."
The 'Education' service, on the other hand, allows parents to sign Dubai school contracts using the DubaiNow app, in addition to viewing current and past school contracts and exploring them in detail. The service also allows users to request academic records, view students' academic history, and request attested school certificates and diplomas.
"The 'Education' service offers many facilities to parents of students, giving them full flexibility in signing contracts with schools across the emirate, and examining their details to make informed decision ahead of enrolling their children," explained Dr Abdulla Al Karam, Chairman of the Board of Directors and Director General of the Knowledge and Human Development Authority. "Our collaboration with Smart Dubai on the DubaiNow application allows us to expand the scope of our smart academic services, meet parents' expectations, and create an environment where all education services are within reach for parents to make optimal decisions regarding their children's education and future."
Last but not least, the 'Housing' service allows Dubai residents to search for residential units for rent more easily and efficiently, as well as to digitally sign, renew, and terminate rental contracts, all through the DubaiNow app.
H.E. Sultan Butti bin Mejren, Director General of Dubai Land Department, asserted that the new service is part of the Department's plans to lead a full digital transition, provide smart housing services to enhance the local real estate industry – on of the emirate's key sectors. "We are looking to offer real estate developers and property owners looking to rent out their residential units increased financial flexibility, as well as other perks that facilitate the rental process and upgrade the sector as a whole," H.E. said.
The 'Mobility' service allows users to process the following transactions: transfer ownership of a vehicle, register a vehicle, pay traffic fines, top-up Salik cards, pay parking fees, receive car insurance from one source, locate the nearest vehicle registration centre, pay for petrol at any ENOC stations, locate charging stations for electric cars, and the Sayarti service.
DubaiNow offers more than 88 government services from more than 33 entities. They can be classified into 10 different categories, namely: security and justice, mobility, payments and bills, visas and residency, travel, health, business and employment, education, housing, and Islam, among others.
The platform allows customers to pay traffic fines; pay DEWA, Etisalat or du fees; top up Salik or Nol cards; locate the nearest vehicle registration centre; and many other tasks and services. It also allows them to pay for fuel and services at any ENOC station using the app.