Acer announces ConceptD Notebooks
The new ConceptD Pro series notebooks feature NVIDIA Quadro GPUs, and are designed for professional creators, AI engineers and software developers
October 28, 2019, 11:00 PM
Acer announced its ConceptD Pro series notebook family equipped with NVIDIA Quadro RTX GPUs and 9th Gen Intel Core.
Built for peak performance, the Pro series family are among the first notebooks to support applications in virtual reality, artificial intelligence, and big data analytics. They follow ConceptD's design language, and feature amber backlit keyboards.
" We're excited to enlarge our ConceptD family with notebooks built with the latest high performance components from Intel & Nvidia. These notebooks will now cater to a larger audience of creators, from the most demanding engineer to the perfectionist influencer." Speaking on the new ConceptD family, Joumana Karam, Product & Marketing Head for Acer Middle East
ConceptD 9 Pro
As part of the RTX Studio program, the ConceptD 9 Pro sits at the top of the Pro series and is a creator notebook thanks to Acer's CNC-machined Ezel Aero Hinge. It features the 9th Gen Intel Core i9 processors for, multi-threaded performance and up to NVIDIA Quadro RTX 5000 graphics aimed at AI/deep learning, engineering simulations and large animation studios requiring power, flexibility and cross-compatibility.
ConceptD 7 Pro
Shipping with a 15.6-inch 4K display, Acer's ConceptD 7 Pro is designed for powerful on-the-go performance and part of the RTX Studio program. At only 17.9 mm thin and weighing just 2.1 kg, its design makes it perfect for users seeking the best balance between power and portability.
It features up to a 9th Gen Intel Core i7 processor for compute intensive workloads that demand performance, while NVIDIA Quadro RTX 5000 GPU options are ideal for data scientists, software developers, engineers and professional design studios who demand power, flexibility and compatibility that is tested with all certified professional software applications. In addition, the ConceptD Palette offers a friendly UI for quickly adjusting preferred color profiles and monitoring system controls.
ConceptD 5 Pro
Part of the RTX Studio program and available in 15.6- and 17.3-inch IPS display options, both with a 4K UHD resolution, the new ConceptD 5 Pro series is perfect for complex CAD design, animation and simulation workflows. Up to 9th Gen Intel Core i7 processors and up to NVIDIA Quadro RTX 3000 graphics are also included for architects, 3D animators, special effects producers and small design studios. A premium metal chassis offers durability and the PANTONE-Validated display is built for creators, with a wide color gamut that matches 100% of the Adobe RGB color space for precise color replication.
ConceptD 3 Pro
The most accessible member of the ConceptD Pro series, the ConceptD 3 Pro is for digital natives such as photographers, industrial design students, interior and graphic designers as well as YouTuber streamers. Equipped with up to 9th Gen Intel Core i7 processors and NVIDIA Quadro T1000 graphics, the ConceptD 3 Pro allows users to process all their media with true color reproduction and runs comfortably quiet at less than 40 dB.
ConceptD 5 and ConceptD 3
Aiming also at creators who appreciate design, Acer released the updated ConceptD 5 and ConceptD 3 notebooks. Both featuring up to 9th Gen Intel Core i7 processors for the performance, the new ConceptD 5 comes in both 15- and 17-inch display options and has been upgraded with up to NVIDIA GeForce RTX 2060 GPUs for those seeking power and mobility. Its NVIDIA GeForce GTX 1650 GPU provides plenty of power on the go.
New ConceptD Monitor- CM2241W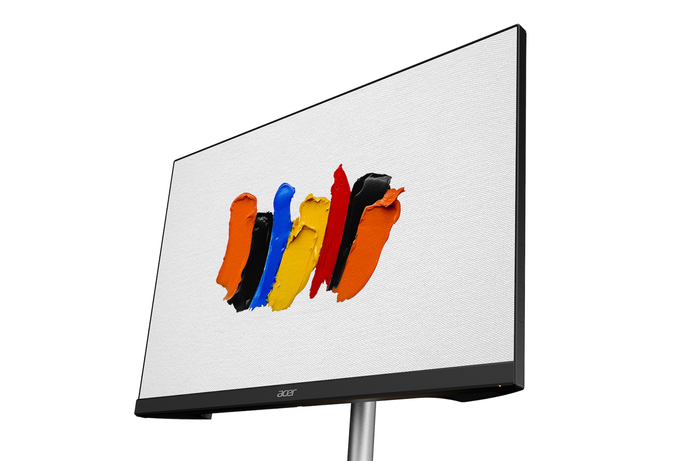 The new ConceptD CM2241W is a desktop monitor ideal for users who want to add an external display to their workstation. It features a slim bezel, excellent color accuracy supporting 99% of the Adobe RGB color gamut and hyper-smooth viewing with a refresh rate up to 75 Hz.
Pricing & Availability
The ConceptD 9 Pro will be available for ordering in Q1 2020 starting at 15,999 AED/SAR
The ConceptD 7 Pro will be available for ordering in Dec 2019 starting at 11,999 AED/SAR
The ConceptD 5 Pro will be available for ordering in Nov 2019 starting at 9,999 AED/SAR
The ConceptD 5 will be available for ordering in Nov 2019 starting at 8,999 AED/SAR
The ConceptD 3 Pro will be available for ordering in Nov 2019 starting at 7,499 AED/SAR
The ConceptD 3 will be available for ordering in Nov 2019 starting at 5,499 AED/SAR
October 28, 2019, 11:00 PM