Fitbit launches Versa 2 and Fitbit premium in the UAE
Fitbit's Versa 2 is the first smartwatch of Fitbit with an on-device microphone and comes with Fitbit Pay
September 18, 2019, 01:30 PM
Fitbit announced the launch of Fitbit Versa 2 in the UAE. It is the next generation of its smartwatch, Fitbit Versa. Versa 2 delivers a new precision-crafted 'swim-proof' design, includes sleep features like Sleep Score and Smart Wake, and is packed with more health, fitness and smart features.
Versa 2 debuts an on-device microphone, which enables voice to text, along with a Spotify app that allows users to control their music and podcasts, and Fitbit Pay. Coupled with faster performance, thousands of apps and clock faces and a brighter, crisper display with an optional always-on mode, Versa 2 is your daily driver for health and wellness companion – now with 5+ days' worth of battery life, at the same approachable price as Versa.
"At Fitbit, we believe that health belongs to everyone and that people should not be priced out of having access to devices and features that can help them improve their health. That's why we've designed Versa 2 to be a premium, full-featured and easy-to-use smartwatch at an accessible price point," James Park, co-founder and CEO of Fitbit.
"Building on the success of our original best-selling Versa smartwatch, we believe the added value and innovation in Versa 2, with new features like, a Spotify app and advanced in-app and on-device sleep features, will bring more users into the smartwatch category, allowing them to unlock the benefits of better health." Park added.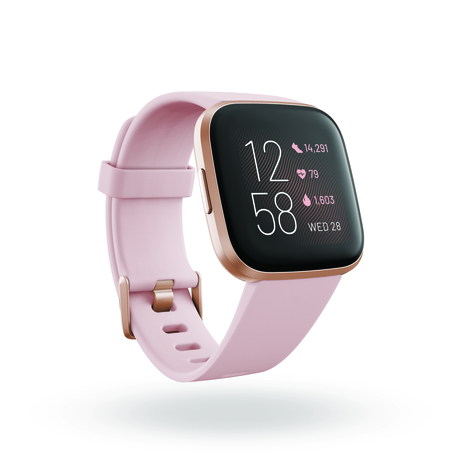 Fitbit pioneered wearable sleep tracking more than 10 years ago, making information previously only available from a medical professional, widely accessible on the wrist. The Versa 2 provides these features to help you improve it:
Sleep Score: Receive a nightly score within the Fitbit app for better insight into your sleep quality. Your score is based on heart rate (sleeping and resting), restlessness, time awake and Sleep Stages.
Smart wake: Coming soon to all Fitbit smartwatches, smart wake uses machine learning to wake you during an optimal time of your sleep cycle, while in light or REM sleep, based on a pre-selected 30-minute interval, so you wake up feeling more refreshed.
Sleep Mode:  Simultaneously disable your screen display and silence notifications for a night free of disturbances. Sleep Mode can also be used anytime you don't want to be interrupted, like during a workout or in a meeting.
Estimated Oxygen Variation Graph: Coming soon, this graph will provide users with an estimate of the variability of oxygen levels in their bloodstream. The data is derived from a combination of the red and infrared sensors on the back of your device. Being aware of short-term variations in the oxygen levels in your bloodstream may indicate variations in your breathing during sleep.
On Versa 2, these include: automatic activity tracking, PurePulse 24/7 heart rate tracking, 15+ goal-based exercise modes, connected GPS and water resistant up to 50 meters.
Convenience and smart features
Versa 2 comes with Fitbit Pay, so you can make easy and secure wallet and phone-free payments.
Fitbit is also bringing the Spotify app experience to Versa 2, allowing Spotify Premium subscribers  to control music and podcasts so you can find all-day motivation directly from your wrist. The Spotify app lets you control playback on-the-go, change playlists, like songs, and easily switch music output without skipping a beat.
The ability to control Spotify adds even more music functionality to Fitbit for you to listen to your music. Additionally, Versa 2 has the ability to store and play 300+ songs from your personal music library and add Deezer playlists.
Versa 2 offers all the essential smart features like smartphone notifications so you can view app, call, calendar and text notifications. If you have an Android phone, you can also use the new on-device microphone to reply to texts and notifications from the wrist.
Faster performance
Now packed with more advanced features, Versa 2 is also powered by a faster processor compared to Versa for better performance and navigation. Plus, a larger AMOLED display delivers a superior experience with boosted viewability and crisper color, and enables an optional always-on display mode, which boasts a 2+ day's battery life so you can easily check the time and see your stats during a workout.
Versa 2 is precision-crafted with subtle material, finish and form updates. The watch is durable and water resistant up to 50 meters, yet lightweight and comfortable enough to wear all day and night with rounded edges and a curved case.
An anodized aluminum finish in a natural color palette gives a sophisticated, modern aesthetic to compliment any style or look and with the simplified one-button design, Versa 2 has a sleek silhouette reminiscent of a classic timepiece.
Versa 2 Special Edition features a premium jacquard woven band in navy and pink with a copper rose aluminum case or smoke with a mist grey case, plus a contemporary color-matched classic silicone band in navy and olive, respectively.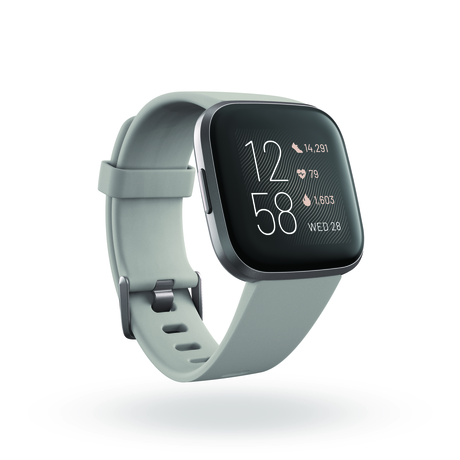 Accessories 
To complement its enhanced design, Versa 2 offers a wide variety of new accessories for work, play and working out, all of which are compatible across the entire Versa family. Featuring new colors, materials, and styles, the lineup offers an array of options for any lifestyle or activity:
Classic bands: Stain-resistant, comfortable, soft and waterproof, classic silicone bands are available in new colors, including black, petal, stone, midnight blue and olive.
Sport-inspired: Designed for all types of workouts or a sportier look, the Versa family's first sport bands are perforated for added breathability, available in navy, black, glacier, frost white and coral, in the same stain-resistant, comfortable silicone as the classic bands.
Fashionable leather and suede: Premium Horween leather perforated bands in charcoal and moss suede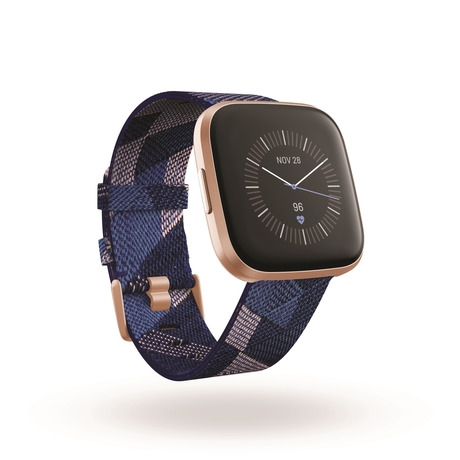 Pricing and availability
Versa 2 will be available starting 24th October in the UAE at Virgin Megastore, Amazon UAE, Noon and Namshi for AED 899 in black with a carbon case, petal with a copper rose aluminum case, and stone with a mist grey case; accessories range from AED 149 – AED 199.
Two exclusive editions -- emerald and plum, both with a copper rose case -- are available exclusively on Amazon UAE. Versa 2 Special Edition is available for AED 999 in navy and pink with a copper rose aluminum case and smoke with a mist grey case.
Fitbit also announced Fitbit Premium, a paid subscription service in the Fitbit app with actionable guidance and coaching to help you achieve your health and fitness goals. Premium leverages insights from 10+ years of Fitbit data as well as academic and medical expertise designed to help the user move more, sleep better and eat well with customized programs, advanced sleep features, personal insights, hundreds of workouts, new challenges, health reports, personalized for the user
Premium is available in English in 17 countries including UAE via the Fitbit app at AED 40 a month or AED 330 AED a year. The Fitbit Premium will be expanded to additional languages in 2020, including Dutch, French, German, Italian, Japanese, Korean and Spanish.
"At Fitbit, we're focused on making health accessible and more achievable. With Fitbit Premium, we're excited to deliver our most personalized experience yet. It will evolve with you and get smarter over time, delivering the support and guidance you need to help you achieve your health goals," said James Park, co-founder and CEO of Fitbit. "The launch of Premium also marks an important milestone as we expand our business beyond devices and deliver new and innovative ways to engage our more than 27 million active users, while also attracting new users to the Fitbit platform."
All Fitbit users are eligible for a one week free trial, and Fitbit Versa2 Special Edition owners are eligible for 90-day free trial.
September 18, 2019, 01:30 PM