Acer introduces new gaming lineup and Planet 9, an e-sports Platform
Acer's product portfolio includes the Predator Triton 300, Triton 500 and the Predator Thronos Air, Acer's newest gaming chair for serious gamers.
September 08, 2019, 01:45 PM
Acer has introduced a new line-up of gaming products ranging from gaming notebooks to a gaming chair and gaming monitors. The company is also investing heavily on e-sports with Planet9, Acer's own e-sports platform.
Predator Triton 300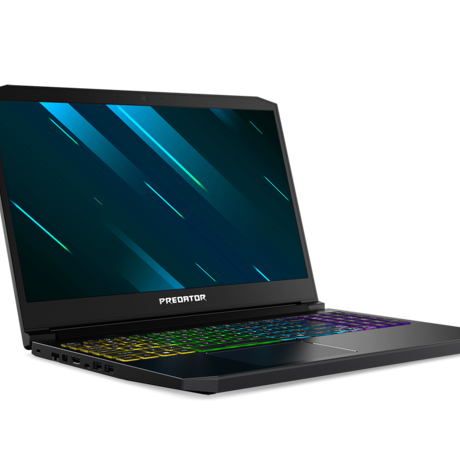 The Predator Triton 300 is the newest addition to the thin and lightweight Triton line, powered by Windows 10. Up to a 9th Gen Intel Core i7 Processor is paired with an NVIDIA GeForce GTX 1650 GPU, and 16 GB of DDR4 2666Hz memory (upgradable to 32 GB). It will support up to two 1 TB PCIe NVMe SSDs in RAID 0 and up to a 2 TB hard drive. Killer Wi-Fi 6 AX 1650 along with Killer Ethernet as standard.
A bright 15.6-inch Full HD IPS display with a narrow bezel design includes a 144 Hz refresh rate and 3 ms response time. Immersive audio is delivered with Waves Nx, which physical modeling to deliver a realistic and convincing listening experience by virtually mimicking the immersion of ultra-high-end speakers in a perfect acoustically-treated space.
Predator Triton 500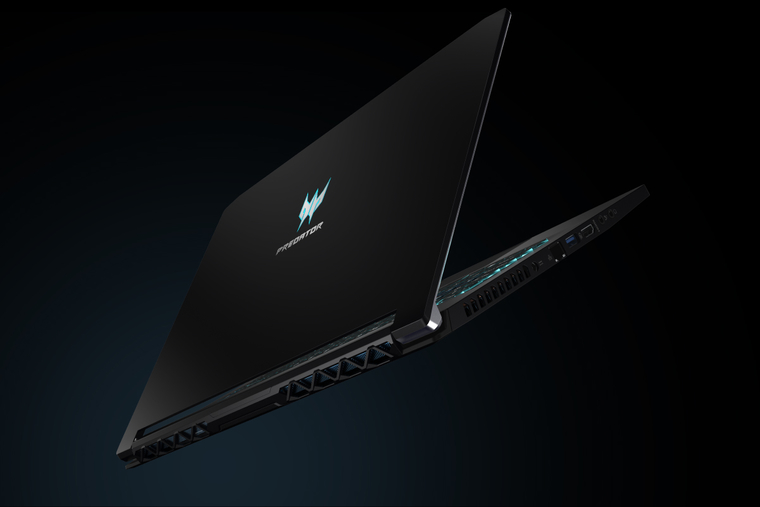 Now with a 300 Hz 15.6-inch Full HD display, the Predator Triton 500 is a gaming notebook slimmed down to just 17.9 mm (0.70 inches) thin and weighing 2.1 kg (4.6 pounds). It has an all-metal chassis and narrow bezels measuring just 6.3 mm (0.25 inches) for an 81% body-to-screen ratio.
The Predator Thronos Air Gaming Chair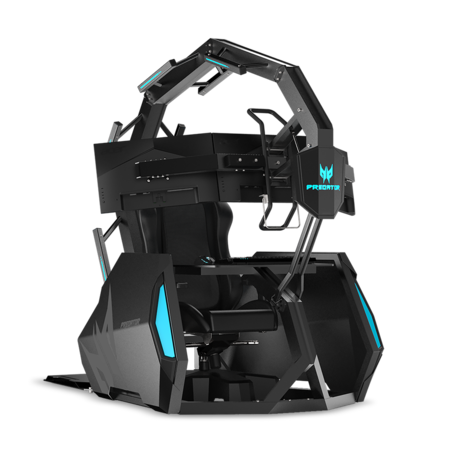 The Predator Thronos Air, Acer's newest gaming "chair," if you can call it that is for hard core enthusiast gamers. The steel structure includes a chair, modular desk and monitor arm. It envelops the gamer in an all encasing cockpit. Teal blue lighting emits a soft cool glow. The chair can be adjusted to various angles (130 degrees inside cabin and 180 degrees outside the cabin). It even includes a massage function gimmick, so gamers can relax after intense gaming sessions. The desk includes an adjustable keyboard and mouse tray. A footrest is included.
Capable of supporting up to three displays, the monitor arm can be manually raised and lowered with a handle located right below the middle monitor stand. In addition, a camera can be positioned right above the middle monitor, making it easy to live stream. In addition, Acer offers numerous customization options and upgrades, such as a seat stabilizer to prevent the chair from moving around during game sessions, a cup holder, a headset holder, a USB hub, and a camera.
Nitro XV3 Series Monitors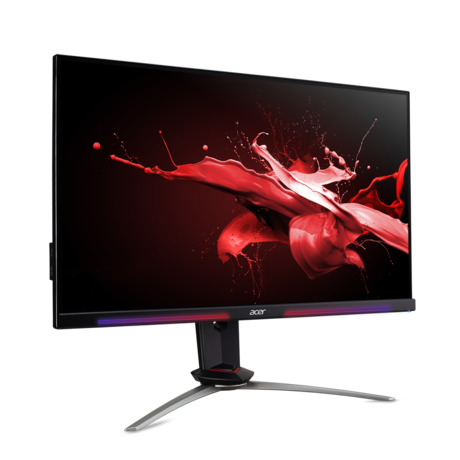 NVIDIA G-SYNC compatible, the new Nitro monitors enable Variable Refresh Rates (VRR) by default when connected to NVIDIA GeForce GTX 10-Series and GeForce RTX 20-Series graphics cards to support dynamic refresh rates, eliminating screen tearing and minimizing lag.
The Nitro XV3 series feature Acer's latest Agile-Splendor technology, which utilizes panels with both fast liquid crystals as well as 99% sRGB wide color gamuts. The DisplayHDR 400-certified monitors offer ultra-fast response times of up to 1ms VRB (Visual Response Boost) that ensures clear, blur-free images, phenomenal color reproduction and more realistic and natural images and a 240 Hz refresh rate.
The Acer Nitro gaming monitors come in four configurations; two 27-inch and two 24.5-inch monitors.
Acer Nitro XV273U S 27-inch WQHD 165 Hz
Acer Nitro XV273 X 27-inch Full HD 240 Hz
Acer Nitro XV253Q X 24.5-inch Full HD 240 Hz
Acer Nitro XV253Q P 24.5-inch Full HD 144 Hz
All monitors feature Acer Game Mode, eight preset display modes to optimize the visuals for different types of content. The Acer Nitro XV3 series also has an ergonomically designed stand with 20° swivel.
Planet9 – Acer's Next-Gen Platform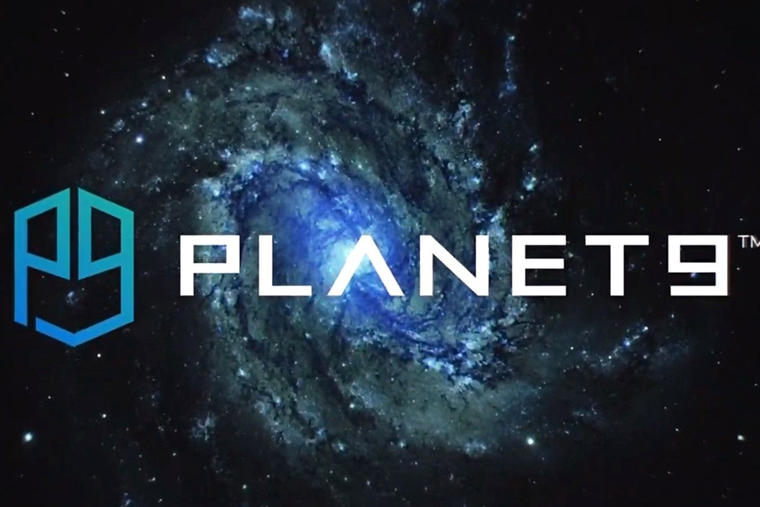 Planet9 is an open community that Acer says allows gamers to build their team, train for excellence and challenge for victory. It is currently in closed beta and will enter open beta on January 30, 2020. Planet9 opens up esports to amateur and casual players seeking to participate, allowing them to learn from professionals, understand their strengths and weaknesses, connect with fellow gamers in the community, and participate in online tournaments.
The foundation of Planet9 is its community features, which allows gamers to meet and group with fellow gamers who are on the same path. They can add friends, follow people they are interested in, and receive recommendations on who they can play with based on game played and complementing skills. For teams, functions such as a chatroom and sharing of game tactics allow the group to bond and learn from each other.
Planet9 provides a series of features to help gamers level up their skills, whether to hire a coach to give individual guidance, play alongside veteran gamers, clock some more hours with friends at similar levels, see advanced game statistics to track their performance, or practice with and challenge other players
Planet9 can host tournaments from small to large scale, sponsored or official, and can be joined for a chance at fame, glory, and prizes. The platform pairs players of similar skill-level for matches or tournaments to ensure fair competition. When enough wins are accumulated, rewards such as gifts and prizes can be redeemed.
Pricing and Availability
The Predator Triton 300 will be available in EMEA from October, starting at EUR 1,299.
The new Predator Triton 500 will be available in EMEA from November, starting at EUR 2,699.
The Predator Thronos Air will be available in EMEA during Q4, starting at EUR 8,975.
The Acer Nitro XV273U S will be available in EMEA from January 2020, starting at EUR 649.
The Acer Nitro XV273 X will be available in EMEA from September, starting at EUR 519.
The Acer Nitro XV253Q X will be available in EMEA from November, starting at EUR 419.
The Acer Nitro XV253Q P will be available in EMEA from October, starting at EUR 329.
September 08, 2019, 01:45 PM