Sennheiser introduces new Momentum Wireless headphones
The headphones are the latest addition to the audio company's range that marries the sound it's known for along with a modern design aesthetic.
Sennheiser's premium Momentum headphone range enters its third generation, with the launch of the new Momentum Wireless at IFA 2019.
It's been a while but Sennheiser has finally announced a new flagship noice canceling line. They're packed with a lot of features to compete with the offerings of today's popular headphones and look straight to target Sony and Bose's line. 
"Our Momentum range has been synonymous with a unique blend of superior sound quality, progressive technology and remarkable craftsmanship, and with the third generation, we are bringing this contemporary classic into the always-on, connected age," Stephane Hareau, Global Head of Products Consumer at Sennheiser.
Features
Auto On/Off instantly turns on or off playback as the earcups are folded open or closed, while Smart Pause uses proximity sensors to pause audio when the headphones are removed and to resume playback when they are slipped back on. It has a three-button interface that gives control of audio or calls. Via a dedicated button, the Momentum headphones feature one-touch access to voice assistants such as Siri and Google Assistant, while Amazon Alexa integration will be available soon with a firmware update via the Sennheiser Smart Control app. Pairing is effortless with NFC and an automatic pairing mode that makes setting up on initial activation fairly smooth.
Bluetooth sync with Video
The speaker system is powered by 42mm transducers to reproduce the balanced depth and precision of a studio recording. This audio performance is ensured by Bluetooth 5 compatibility and support for codecs including aptX, AAC, and SBC, as well as aptX Low Latency for perfectly synchronising audio with onscreen visuals.
Whether listeners are enjoying music, movies or podcasts or simply want to fine-tune the audio experience to their taste, it is possible to tailor the audio experience with the built-in equalizer via Sennheiser's Smart Control app.
Active Sound Cancellation
The headphones are able to adapt to every environment. When on the go, Active Noise Cancellation with three different modes blocks out the outside world. Alternatively, the Transparent Hearing function lets listeners enjoy their music and still be aware of ambient sounds in their surrounding, perfect for environments that require greater situational awareness like airports, just like what Sony offers.
A huge focus on design
Like all Momentum headphones, the new generation model offers a sophisticated harmony of form and function which might be a bit excessive but Sennheiser are known for their great design. While the genuine sheepskin leather of the earpads and pearl-blasted stainless steel sliders express a subtle luxury, the company says it functionally enhances every interaction.
The leather on the padded ear pads and headband is ultra soft for improved wearing comfort, even for longer listening sessions with the 17-hour battery life. Meanwhile, the strong yet lightweight stainless steel sliders and hinges ensure the headphones remain robust enough for a lifetime of listening on the move. The folding headband design allows the headphones to fold away in their fashionable fabric carry case.
Now with a location tracker
With the new Momentum Wireless, it is easy to lose oneself in the music, but thanks to smart Tile technology, the headphones are almost impossible to misplace. The integrated Bluetooth tracker ensures users can find their headphones via the Tile app.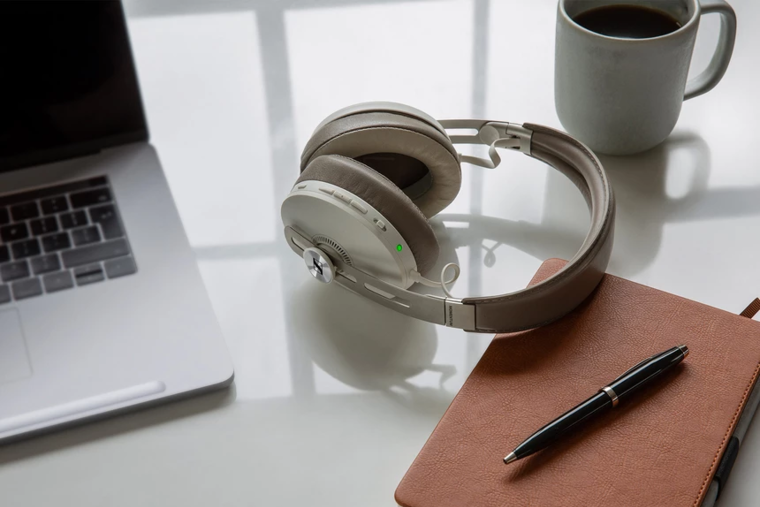 The price and availability of the  Momentum Wireless for the Middle East will be announced shorty but if you can't wait to get one, the Sennheiser Momentum Wireless headphones cost $400 and are available in black now. There is a white color option which will be released later in the year.