Logitech makes one of their best in class mouse and keyboards even better
Logitech announces the MX Keys and MX Master 3, which the company says reinvents the wheel, literally.
September 04, 2019, 12:30 PM
Logitech announced the Logitech MX Master 3 and Logitech MX Keys, the latest additions to the well known performance Master Series.
While the devices are great standalone, they are meant to be bundled together. The MX Master 3 offers ultrafast and ultraprecise scrolling with the all-new MagSpeed Scroll Wheel. What's cool about the MX Master 3 though is that its driven by electromagnets, so it allows you to silently scroll. The MX Keys keyboard has, what Logitech calls, Perfect Stroke technology, which will give you a tactile low-profile typing profile. 
"Our newest flagship products are designed for advanced users, such as software developers, engineers or designers, who want to be more productive and need to interact with their digital content at the speed of thought. The MX Master 3 MagSpeed Scroll Wheel is our fastest, quietest and most advanced scrolling wheel to date, and MX Keys brings you the most comfortable low-profile typing experience we can provide so you can work as long as you want. When used together, these premium performance tools deliver the ultimate solution to your desktop." Delphine Donne-Crock, general manager of creativity and productivity at Logitech
Logitech MX Master 3
The Logitech MX Master 3 Advanced Wireless Mouse is designed to keep your hand in a comfortable enough position for long stretches of time, supporting your hand and wrist. Profiles for popular software applications are ready out-of-the box, in addition to customization options offered via Logitech OptionsTM. The mouse features Logitech MX's signature DarkfieldTM 4,000 DPI High Precision sensor that tracks on all surfaces including glass. It also has a rechargeable battery that lasts up to 70 days with a full charge, and a three-minute quick charge gives you a full day of use.
Logitech MX Keys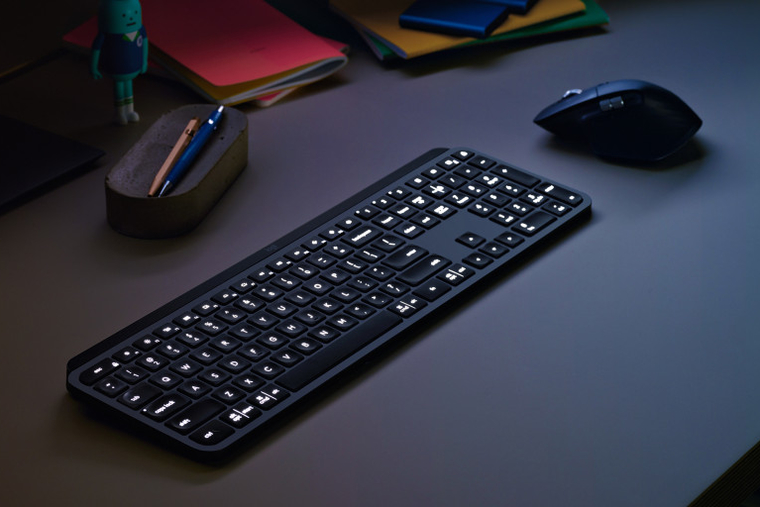 The Logitech MX Keys Advanced Wireless Illuminated Keyboard comes equipped with smart illumination, the backlighting detects your hands and adjusts keyboard lighting automatically depending on the room lighting condition. It also switches off when it's not in use to save battery power and keep distractions at a minimum. A soft and durable detachable palm rest is also available with the Logitech MX Keys Plus version, bringing extra comfort to the keyboard, if desired.
Multi platform compatiblity
Logitech MX Master 3 and MX Keys are both compatible with Windows, Mac and the more popular Linux distributions. The mouse and keyboard are compatible with Logitech Flow technology, enabling you to seamlessly switch and control up to three Windows or Mac computers simultaneously. This allows you to copy and paste content, images, and documents between your computers and between operating systems. Built to sustain hours of use, Logitech MX Master 3 and Logitech MX Keys each have USB-C quick-charging.
Pricing and Availability
Logitech MX Master 3 and Logitech MX Keys are expected to be available in September 2019 at Logitech.com and Amazon.com as well as select retail stores in October 2019. Suggested retail price for MX Master 3 is $99.99 and MX Keys is $99.99. MX Palm Rest is sold separately on Logitech.com and Amazon.com for $19.99
September 04, 2019, 12:30 PM