Cloud computing: Sky's the limit
The ITP Technology Division annual survey of cloud computing trends reveals that public and hybrid cloud have gained traction among enterprises in the Middle East, however, concerns around security and cloud migration remain
Efficiency, agility, flexibility, scalability – the benefits of adopting cloud technologies are numerous. Unsurprisingly, growth in the use of cloud computing has been a consistent trend. ITP Technology Division has concluded the biggest cloud survey across the Middle East (sponsored by Ingram Micro and NetApp) to evaluate market sentiments around adoption of cloud infrastructure, level of investment in the region and key business drivers for cloud migration.
The majority of the participants (92%) in the study comprised of IT professionals and decision-makers from large- and medium-sized companies. Respondents spanned across a broad range of industries including retail/wholesale distribution, professional services, manufacturing, financial services, education, healthcare, telecom and government.
As global investments in cloud infrastructure continue to gain momentum, it comes as no surprise that 35% of our survey respondents have indicated IT budgets in excess of $1 million. Spending in cloud IT infrastructure in 2020 is expected to reach $69.2 billion, a predicted annual increase of 3.6% over 2019, as per market analyst firm IDC. Cloud spending is expected to continue its upward swing, especially given that the current economic state has encouraged decision-makers to revisit their cloud strategies.
This is reiterated by the data accrued from the 2020 cloud survey conducted by the ITP Technology Division, which states that nearly 76% of enterprises are using cloud-based technologies.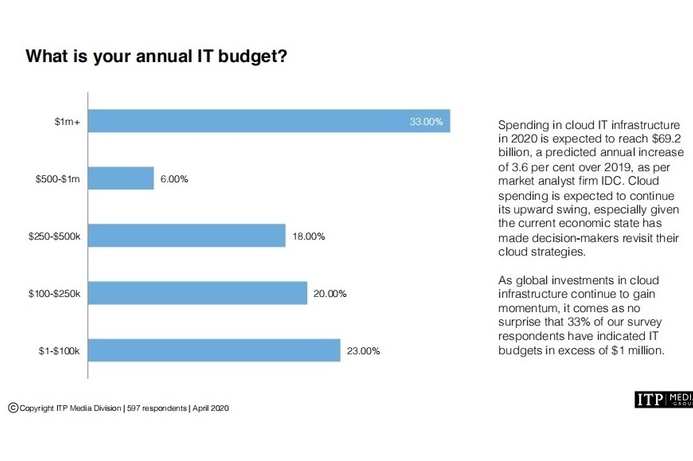 Cloud adoption
While defining their cloud strategy, businesses need to decide between the public, private and hybrid cloud. Cloud adoption requires careful analysis and evaluation where the benefits of each platform are to be weighed against budget and business requirements. The right cloud deployment strategy can bring the benefits of each cloud platform to simplify overall business, enable cost-saving and enhance the efficiency of business operations.
As the Middle East region continues to embrace the cloud, only 6% of surveyed enterprises were found not to be using any cloud environment. This is countered by a steep rise in the number of organisations that are either increasing their use of cloud-based applications (49%) or are in various stages of adoption.
Data localisation has been a significant factor in driving regional enterprises to prioritise cloud in their business strategies and budget decisions.
The acceleration in cloud adoption in the Middle East is supported by localised data centres by major players including Microsoft, Amazon Web Services, Oracle and IBM over the past year. More recently, Google Cloud Platform also launched its first region in the Middle East.
Microsoft Azure, Amazon Web Services (AWS) and Google Cloud remain the top three public cloud providers for respondents. Thirty-eight per cent of enterprises said they use Azure while 32% of respondents said they are using AWS. Google Cloud and Oracle follow close behind with 22 and 18 per cent users, respectively.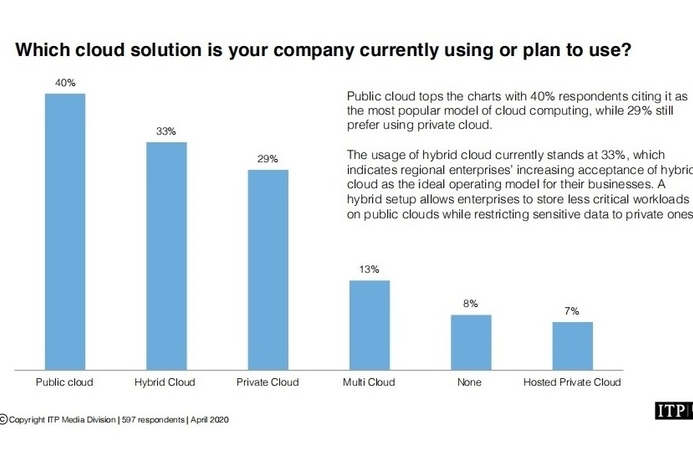 Public cloud tops the charts with 41% respondents citing it as the most popular model of cloud computing, while 29% still prefer using private cloud. A recent market report by IDC states that the growth in spending on cloud IT infrastructure is driven by the public cloud segment, which grew 14.5% year over year to $13.3 billion while private cloud grew 8.2% to $6.1 billion.
The usage of hybrid cloud currently stands at 33%, which indicates regional enterprises' increasing acceptance of hybrid cloud as the ideal operating model for their businesses. A hybrid setup allows enterprises to store less critical workloads on public clouds while restricting sensitive data to private ones.
Multi-cloud popularity is not as widespread, with only 13% of enterprises keen on using this model, as per our survey findings. As complexity increases, it becomes increasingly difficult to monitor different cloud environments. This further strengthens the case for developing talent in the market as the changing technology landscape makes it hard for enterprises to find staff with multi-cloud skills.
Top challenges
With advances in technology, most enterprises have understood the potential of the cloud; however, security and privacy concerns around cloud continue to be the main pain points. Sixty-eight per cent of respondents to our cloud survey cite security as their top concern.
The 2020 cloud survey results show that the Middle East region continues to embrace the cloud.
For organisations that are new to the cloud, transitioning from the current traditional IT to the new potential capabilities of cloud computing presents difficulties. Over 36% of enterprises find it difficult to move data, applications or other business elements to a cloud computing environment.
For organisations with cloud-based services in place or working towards it, cost management (33%) is one of the main concerns. Governance (26%) and compliance (20%) are close behind cost management as the top challenges to be dealt with when creating the right cloud strategy.
Another issue that comes to light is deciding which cloud works best for an organisation's workflow. Nearly 13% of respondents voiced concerns over their ability to choose between private, public and hybrid models. Moreover, the monitoring and management of different cloud models is very demanding.
This reiterates the need to upskill new and existing staff and is evident from the fact that 49% of respondents struggle with fining suitable talent or retaining and retraining existing staff.
The pace of technology evolution has accelerated over the past few years. Digitisation initiatives and integration of digital technology into business workflows have led to the creation of new business models. To meet the demands of evolving technology and remain competitive, enterprises must review their strategies. Our survey results reflect this sentiment with 72% admitting being challenged by the changing market demands due to advances in technology.
The rapid shift in market demands, customer expectations and business models have led to a gap in the skillsets of existing IT staff. Consequently, finding suitable talent (26%) and retaining/retraining existing staff (23%) are among the top three business challenges that enterprises are facing.
Nearly half of the surveyed respondents (45%) consider the lack of understanding of return on investments in the cloud to be another challenge.
The survey results indicate a shift in enterprise cloud strategy in the Middle East. The overall trend shows a greater reliance on the cloud, particularly the public cloud. This will reduce the time and resources required to be spent on research, selection, deployment of cloud technologies while offering organisations the flexibility to maintain their own IT infrastructure.
While the global pandemic hastened the need to review cloud priorities, cloud-based technologies have been a part of budget decisions and business strategies for quite some time. This change in market sentiment stems from several reasons, and local residency of data centres and increased digitisation efforts have played a significant role in cloud computing the de-facto standard among organisations.
Cloud management challenges can be handled by employing the right approach and using the right tools. To combat the complexity that cloud can add, organisations must devise a holistic strategy to implement cloud technology. Further, there is a need to provide proper training and certifications to ensure and improve the understanding of cloud technologies to make informed business decisions.
Source: ITP Media Group, Technology Division | Annual Cloud Survey | April 2020 | 597 respondents